Major Paul Curran will walk 500 miles and Cadets will walk 500 more
2021-03-30
Cadet Commander steps out to famous Proclaimers song to help raise money for bereaved Armed Forces children
Army Cadets Company Commander, Paul Curran, will be channelling The Proclaimers over the next few months as he sets out on his charity challenge to walk 500 miles in 60 days.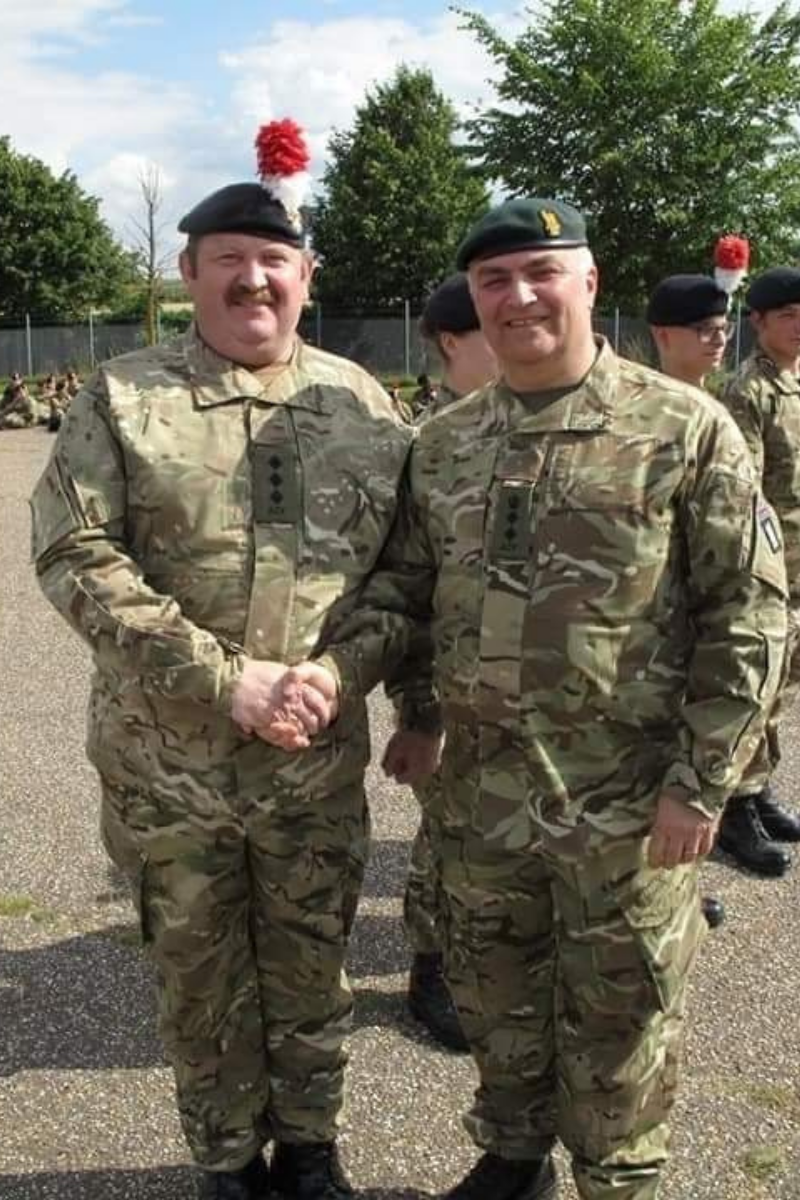 The 57-old-year from Acocks Green in Birmingham will be raising money for two causes, one being Scotty's Little Soldiers, a national charity that offers integral support to children and young people who have experienced the death of a parent in the Armed Forces.
Paul started his walk on 23rd February and aims to finish on St George's Day (23rd April), averaging 8.33 miles a day.
Depending on government restrictions in place he hopes to finish on 23rd April at the Army Reserves Centre in Birmingham to mark the achievement with The Royal Regiment of Fusiliers.
Discussing the challenge Paul said:
"I've been a member of the Cadets for thirty five and a half years and since going into lockdown we've not been able to get together as much as we'd like. Whilst training has continued in the virtual world it has meant that we have not been as active as we normally would be so I thought this would be a great way to exercise and raise money. I heard The Proclaimers song on the radio, and I thought, 'I can do that'."
In staying true to the song, Paul will also be encouraging his fellow Cadets to get involved in walking 500 more.
"I've asked my fellow Adult Volunteers and the Cadets to join in by doubling the number of miles I walk between them," said Paul "As we don't all live in the same area, and to make sure we stay Covid compliant they will all be walking locally to them. But between us I hope to reach the 1,000 mile mark."
Scotty's Little Soldiers is a charity Paul has supported for many years. He said:
"It was during an Armed Forces Day event in Birmingham a few years ago when I came across Scotty's Little Soldiers, they are the only charity to have brought me to tears. During our second Armed Forces Day event we decided to raise money for Scotty's and I've always donated to the charity where I can over the years."
All the money Paul raises will be split between Scotty's Little Soldiers and the 2023 South Africa Community Engagement tour which is being undertaken by his Cadets.
Scotty's Little Soldiers, which was set up in 2010 by war widow Nikki Scott, offers integral support to children and young people who have experienced the death of a parent who served in the Armed Forces.
Nikki saw the devastating impact the death of her husband, Corporal Lee Scott, in 2009 had on their two young children and wanted to help others in the same situation.
The charity is currently providing assistance to hundreds of bereaved Forces children and young people around the UK and services offered include guidance to parents and carers, access to professional child bereavement support, personal education and learning assistance (including grants) and fun activities such as holiday respite breaks and group events. These are all designed to remind the children and young people supported by Scotty's that they are not alone.
Nikki said:
"This is such a great challenge Paul has set himself and I'm delighted he's selected Scotty's as one of his chosen charities. Fundraising events and activities like this are incredibly important right now. Given the current climate, many of our planned fundraising events have been cancelled so challenges like this are greatly appreciated. Our members, like everyone, have found the last year very difficult and need our support more than ever. We wish Paul the best of luck."
Find out more about Scotty's…