The Army Cadet Force (ACF) make a special presentation of the Cenotaph centenary mosaic picture, made to honour our bereaved Forces children
2021-11-16
"It's about inspiring others and making a change for good"
A framed edition of the Cenotaph mosaic picture, which was created last year to mark the Cenotaph's centenary, has been presented to a young RAF cadet, a year after she was cruelly mocked for wearing her cadet uniform to school on Armistice Day.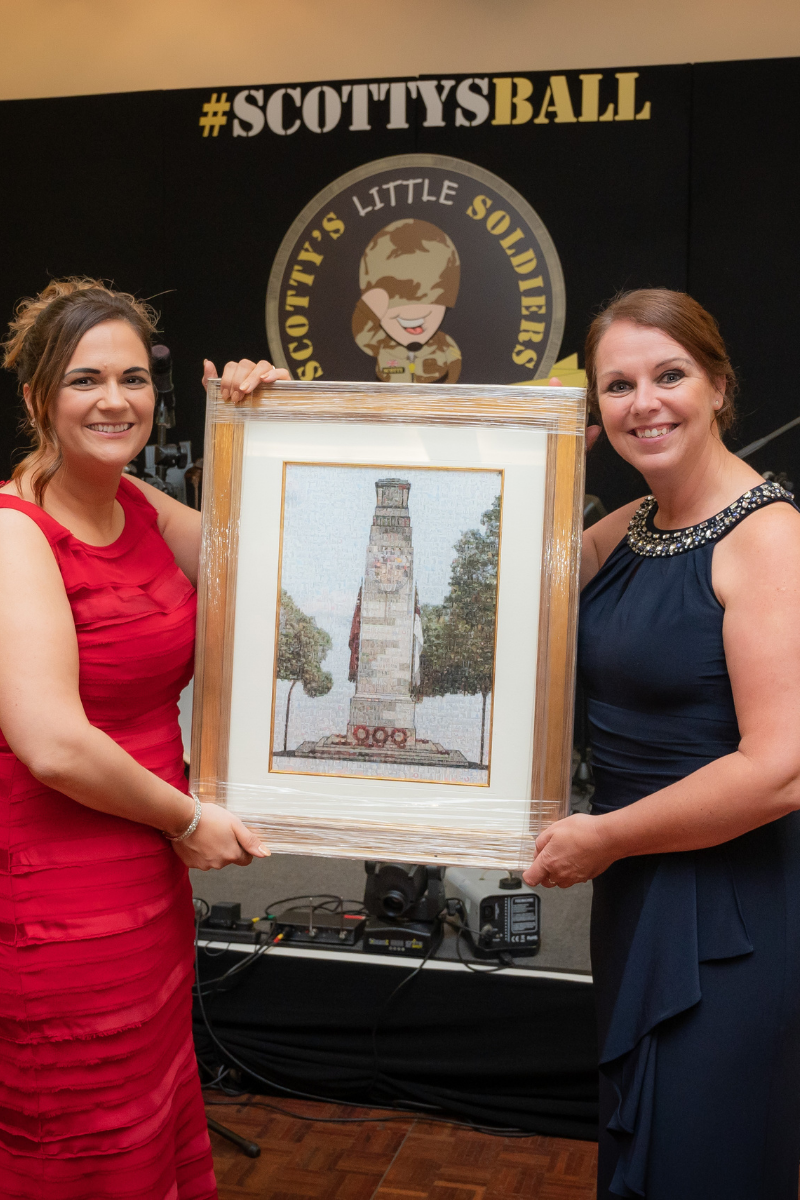 Thirteen-year-old, Taeghan Gordon, was presented with the mosaic by ACF National Ambassador, Major (Retd) Sally Orange, who spearheaded the thoughtful idea, on Remembrance Day (Thursday 11th) at her school in Newcastle, alongside 45 classmates who were all representing different youth organisations, including the Army Cadet Force.
The mosaic, which formed part of last year's Forged with Pride #doorstepsalute campaign, has been created to remember the hundreds of bereaved children and young people across the country, who have all lost a parent who served in the Armed Forces. The images in the Remembrance wreath are of children who are currently supported by bereaved Forces children's charity, Scotty's Little Soldiers.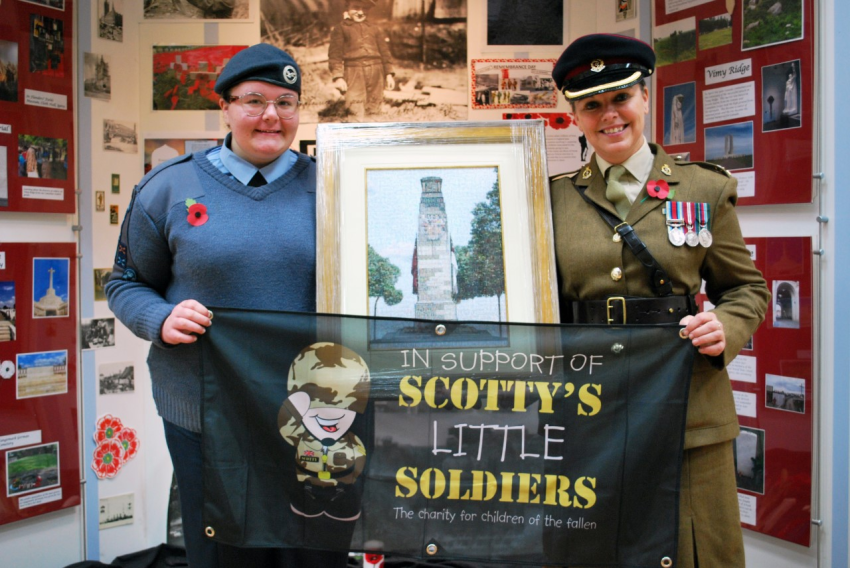 Depicting the iconic Cenotaph and Remembrance wreath, Sally's idea behind the mosaic was to bring together thousands of individual photos, each with the same purpose – to remember those who made the ultimate sacrifice for our country – and, in doing so, building a lasting connection with the military.
Placed at the centre of the Cenotaph wreath, within the mosaic, is an image of Taeghan, with hundreds of photos of other children and young people our fallen heroes left behind, sitting proudly beside her.
In addition to the presentation event on Thursday, several cadets also created handwritten cards for the 45 bereaved Forces children and young people, who marched in the National Remembrance Parade in London on Sunday in honour of their fallen parent. The letters, which were sent to London for them to read ahead of the parade, included heartfelt messages to show support and that people are thinking about them, particularly at this difficult time.
Sally said: "This project has been about bringing people together and building a community. It's about being part of something, a family network that is always there and that's what I wanted the children to go home knowing on Thursday. We've come such a long way over the last 12 months. Last year Taeghan was mocked but this year we're inspiring other children. I wanted all of the children in their different uniforms to know that, by wearing their uniforms, they are inspiring others and making a change for good."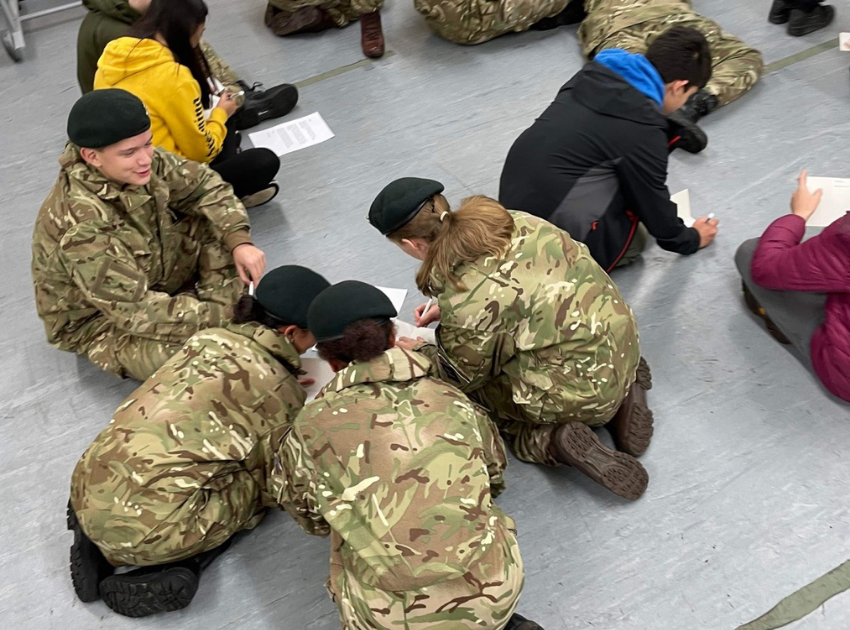 The bereaved Forces children and young people pictured in the mosaic, and in attendance at the National Remembrance Day parade on Sunday, are all members of Scotty's Little Soldiers.
Scotty's was set up in 2010 by war widow Nikki Scott and offers integral support to children and young people who have experienced the death of a parent who served in the Armed Forces.
Nikki saw the devastating impact the death of her husband, Corporal Lee Scott, in 2009 had on their two young children and wanted to help others in the same situation.
The charity is currently providing assistance to hundreds of bereaved Forces children and young people around the UK and services offered include guidance to parents and carers, access to professional child bereavement support, personal education and learning assistance (including grants) and fun activities such as holiday respite breaks and group events. These are all designed to remind the children and young people supported by Scotty's that they are not alone.
Sally added: "We have the best Forces in the world but serving all around the world sadly comes at a cost. Unfortunately, we lose some of our people, mums, dads, brothers, sisters etc. The fall-out from this is that children are left without a parent, and once that happens, they can lose links with the military family that has always given support. Scotty's Little Soldiers seemed a natural fit for this project as they help these children overcome any feelings of being left behind, lost, disconnected and bring them back into the fold, making sure they grow up knowing they and their loved ones are not forgotten."
Scotty's founder, Nikki said: "Being part of such an amazing project means so much to me, our families and our members. Knowing that they haven't been forgotten and that people are thinking about them, particularly around Remembrance is so important. When their parent dies, many of our members lose that sense of community, they are no longer part of that military community they know so well, so building a network of other children who know and understand what they are going through means a lot. I second what Sally says, we have come a long way in the last year, and Taeghan and the other cadets there on Thursday should feel very proud to know that they are helping to inspire other children."
Framed, digital and printed photos of the mosaic are available to purchase online for £12.50, with all profits going to Scotty's Little Soldiers.
Find out more about Scotty's…