"Scotty's has done a lot for me, so when I saw an opening to host the podcast it felt like a chance to give something back."
2022-07-20
20-year-old Alex Thomas was just four when his dad, Major David Thomas, died of cancer. Alex has been supported by Scotty's Little Soldiers since he was 13 and is now the host our Aspire podcast for 18 to 25-year-olds, where he speaks to inspirational guests who have overcome challenges and achieved great things.
Alex's dad, Major David Thomas, served in the REME (Royal Electrical and Mechanical Engineers) and was diagnosed with cancer when Alex was five months old. Despite being told he had only six months to live, David remained by his son's side for three and a half more years. The reason, he told Alex's mum, was that he refused to let go until his son was old enough to have memories of him.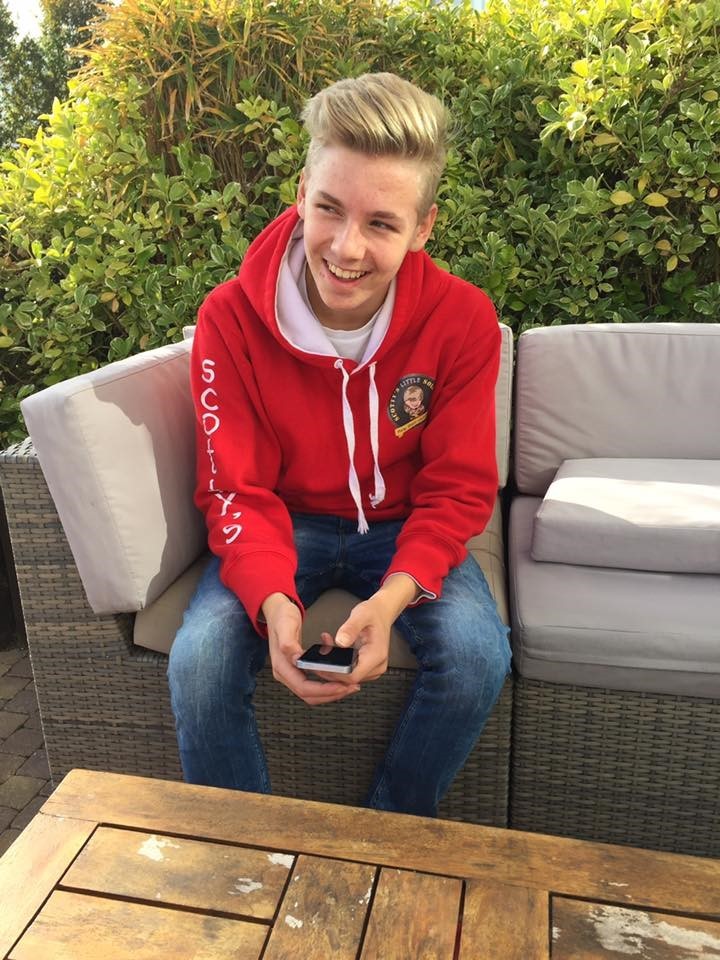 "Being part of Scotty's helps me feel connected to a wide community of young people who are in the same situation as I am," says Alex. "It gives you this real-life sense that you're not alone and that it's okay to not completely understand some things about yourself or what happened to you. Scotty's has really helped me realise that. There are so many people I can talk to and who can talk to me. It's this community – a big family, really – that help each other out. We've all lost a parent and we're all in the same boat, at the end of the day." 
Some of Alex's first experiences with Scotty's included going on respite breaks to Center Parcs and Devon Cliffs, which were great opportunities for him and his family to spend some valuable time together and remember his dad. 
"I remember going on Scotty Breaks down to Devon Cliffs and Center Parcs when I was younger. We did that quite a few times. I'd been to Center Parcs before and it was already my favourite place, so it was great to be able to go there again and get away from everything."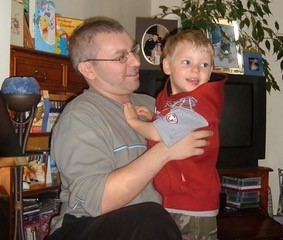 Alex has also attended a number of Scotty events, including being provided with an opportunity through the charity to attend a special event for bereaved Forces children at Buckingham Palace in 2018, where he met a few famous faces. 
"The big garden party at Buckingham Palace a few years ago was just incredible. Prince Harry and Prince William were both there and I met Roman Kemp on the DJ deck, which was pretty cool. It was a brilliant day and definitely one of my favourite Scotty memories. I think that's the day I started to realise how much Scotty's do and how many children they support." 
When not studying for his degree in Sports Coaching, Alex is the host of Scotty's Aspire podcast for Springboarders, available on Spotify, Amazon Music and Apple Podcasts.
In the podcast, Alex talks to inspirational guests about their life, career and the challenges they've overcome with the aim of gaining useful life skills.  
"Scotty's has done a lot for me, so when I saw an opening to host the podcast it felt like a chance to give something back. I also used to love making videos on YouTube and this felt like a way to reignite that creative spark. It was very outside my comfort zone, but that's part of why I wanted to do it – I wanted to push myself. I've loved it."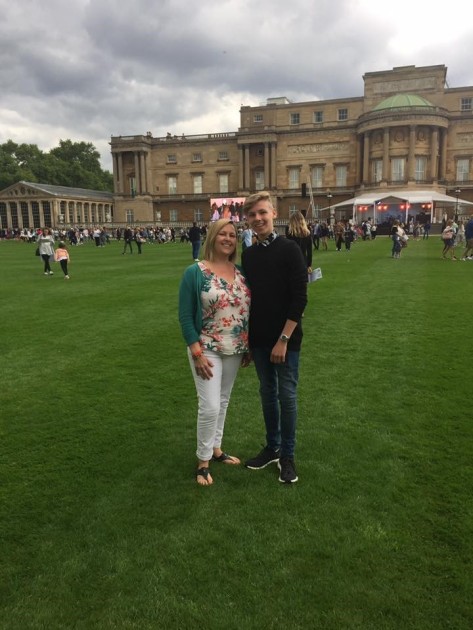 So far, Alex has recorded three episodes of the podcast with more on the way. Many of the people he speaks to also have links to the military, which means Alex is able to ask questions many Springboarders – who have all experienced the death of a parent that served in the British Armed Forces – may be interested in. 
"In addition to hosting the podcast, I'm also sort of representing Scotty's Springboarders, so I try to ask things they'll want to know the answer to and throw in some personal bits about myself here and there to make it more relatable. If I say something on the show and someone listening who has also lost their parent thinks, 'hey, I do that too,' then they might feel less alone." 
Unsurprisingly, Alex is a huge football fan. His dream podcast guests are David Beckham and Christiano Ronaldo, but his reasons for wanting them on Aspire go beyond just his love for the sport. 
"Beckham has so many avenues he works in and he's done so much for charity, while Ronaldo lost his dad at quite a young age. Lewis Hamilton as well, because he's faced so much adversity in his life and yet he's overcome all that to be a seven-time world champion in F1. Prince Harry would be really interesting to speak to as well, having lost his mother when he was a kid and then going on to serve in the military. It's hard to pinpoint just one as there are so many inspirational people that Springboarders could learn from."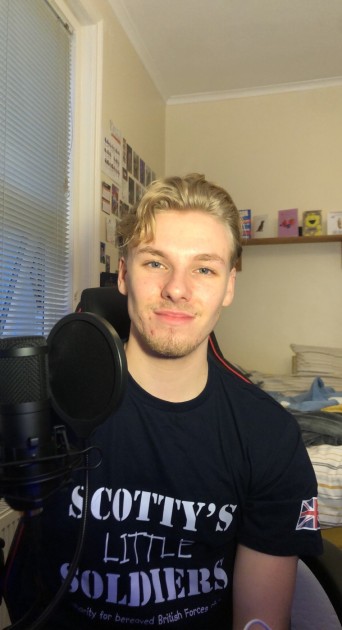 Alex was 13 years old when he joined Scotty's seven years ago, and as one of our older members he has spent his teenage years and early adulthood receiving Scotty's support. Over that time, the position Scotty's holds in his life has changed and adjusted to meet his needs. 
"I've always known Scotty's was there to support me, to tell me I'm not alone and that it's okay to not always be okay about my situation. But, as I've grown up, I've become much more aware of their presence in my life and all the stuff they do. Part of that is a result of working on the podcast, but it's also because, as I've got older, I've started to understand how I feel about my situation more and see all the different ways Scotty's can help. I feel like if Scotty's can help me, then there's plenty of others out there who will be in the same situation they can help as well."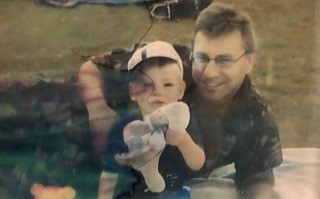 Scotty's Little Soldiers is a charity dedicated to supporting children and young people (0 to 25 years) who have experienced the death of a parent who served in the British Armed Forces.  
Inspired by the experience of Army widow Nikki Scott, following the death of her husband Corporal Lee Scott in Afghanistan in 2009, the charity, which was set up in 2010, provides support and guidance to hundreds of bereaved military children and young people throughout their childhood. 
Services offered to Scotty's members include access to child bereavement support, guidance to parents and carers, personal education and learning assistance (including grants), and fun activities such as holiday respite breaks and group events. These are all designed to remind the children and young people supported by Scotty's that they are not alone.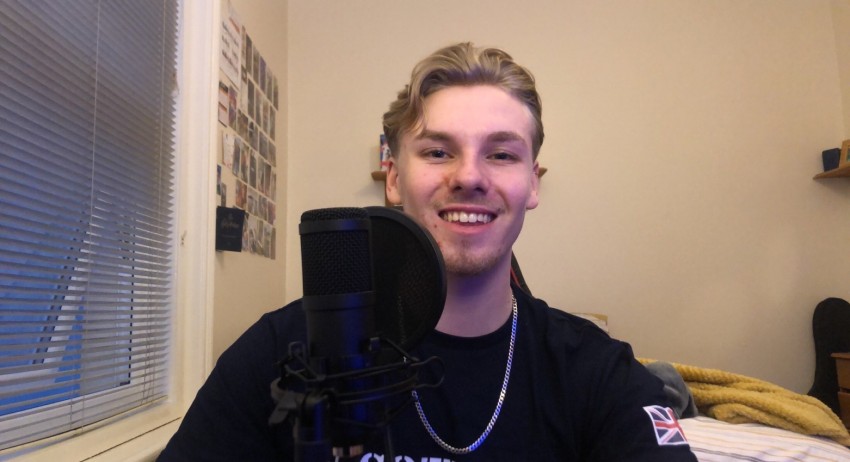 If you know a child or young person who has experienced the death of a parent who served in the British Armed Forces, they could be eligible for specialist bereavement support from Scotty's Little Soldiers. Hundreds of bereaved military children aren't getting the support they need but we are here to help.
If you are the parent or carer of a bereaved military child or young person, click here. 
If you work with bereaved children & young people, click here. 
If you are a bereaved young person seeking support, click here. 
How You Can Support Our Members