Hero of the Month: MNE Ralph Hebden (1980-2013)
2022-08-01
MNE Ralph Michael Hebden was an active hiker, painter and proud soldier in the Royal Marines. A member of the cadets as a child, he had wanted to join the military his whole life and served for over 12 years. During this time, he completed five tours including Iraq and Afghanistan.
On the 11th of March 2013, Ralph drowned. He was 32 years old.
His wife, Sarah, was pregnant at the time, and very shortly afterward gave birth to their daughter, Evie.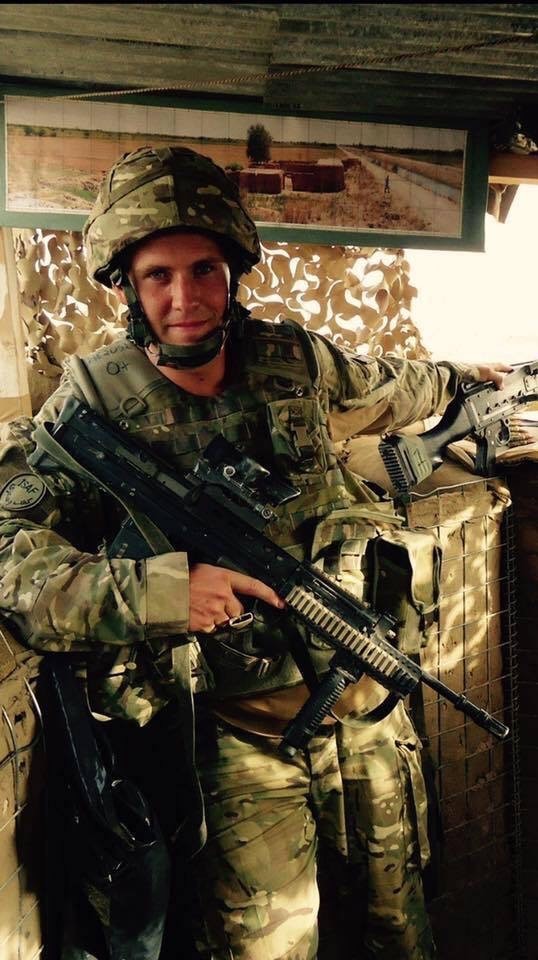 "He was so cheerful and always looked on the bright side of life," says Sarah. "He could come across a bit quiet at first, but that went away once you knew him. Ralph had always wanted to be a Royal Marines Commando and even joined the Sea Cadets when he was in Primary School. He had always set his sights set on being a Royal Marine and was so proud of achieving it." 
In his free time, Ralph enjoyed painting and other creative pursuits. 
"One of his favourite things to do was collecting and painting Warhammer figures. Whenever he wasn't on tour, he'd buy these big boxes full of figurines he could take with him when he went away. He was really good at it and always painted them so precisely. He definitely would have tried to get Evie into it, too. They're very similar in that way – both quite introverted and artistic." 
Aside from painting, another of Ralph's favourite hobbies was hiking around the countryside.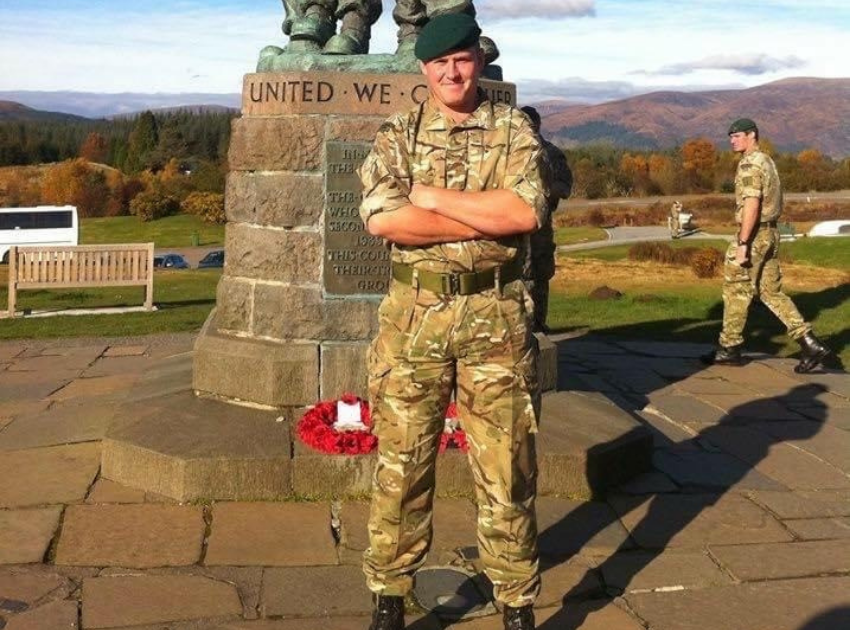 "We used to go hiking every weekend," says Sarah. "His favourite places were the Lake District and the Peak District. We used to go camping a lot as well. He was very active and always happiest when he was outdoors." 
Sarah believes Ralph would have been a kind, laid back father. "I'd be the strict one, for sure," she says. "He would have let Evie get away with anything." 
Despite never being able to meet her dad, Ralph remains an important presence in Evie's life. There are photos of him all over the house, and she's always asking to hear stories about what he was like. Evie and her mum have a display cabinet where they keep his medals, and she has even used them for a show and tell presentation about her dad at school. 
"Evie finds things like Sports Day hard, as that's when she sees everyone with their dad," says Sarah, "but she knows lots about him and is so proud of everything he did."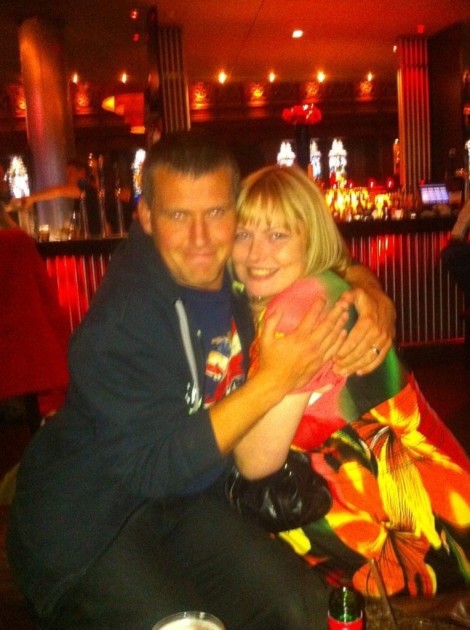 Ralph's medals aren't Evie's only connection to the military. Lots of their family have also served in the Armed Forces, and Sarah and Ralph even got married at RMR Merseyside.  
"It's one of my favourite memories," says Sarah. "Our friends in the Royal Marines came down from Scotland and we had a big party. It was only a pound a pint – there were lots of happy Marines that night!" 
Every year, Evie and her mum attend a Remembrance service, and last year they joined Scotty's Little Soldiers to walk at the Remembrance Sunday Cenotaph Parade in London. Evie was the youngest of 45 children, all marching to honour their parent who died. 
Talking about the day, Evie said: "It's was a very special day and it was nice to be with my friends from Scotty's and also make new friends." 
"It a was a long, brilliant day," adds Sarah. "We were on our feet from seven in the morning and got home at 11 O'clock at night. It was exhausting but exhilarating at the same time. Evie was only eight – she slept like a log!"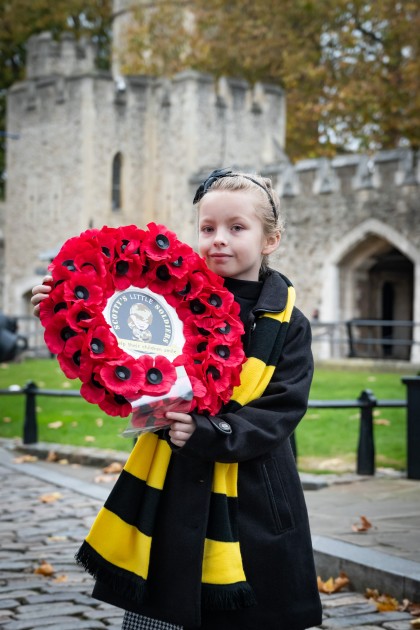 Evie and her mum have attended lots of other Scotty events since joining in 2013, but the annual Scotty's Christmas party has always been a highlight. 
"For Evie, going to those Christmas parties and being able to talk to other children in the same situation as her helps a lot. She quite shy and introverted, like Ralph was, but because she knows other kids who attend the party every year she's very comfortable. It's like a school reunion for her. She looks forward to it every year." 
In addition to the Christmas parties, Evie and her mum also joined a number of Scotty Members at a special event for bereaved military children at Buckingham Palace in 2018. The event was attended by Prince William and Prince Harry, who had a surprise encounter with Evie. 
"That was my favourite thing we've ever been to," says Sarah. "There was a man who made sausage dogs out of balloons and gave one to Evie, who was only three or four at the time. Prince William came over and Evie started waving this sausage dog in his face. He thought she was trying to give it to him, so he took it, but she then grabbed it back and it burst. Evie started crying, so Prince William pulled Prince Harry over to help calm her down. Harry got on his knees and started cuddling her and talking to her until she felt better."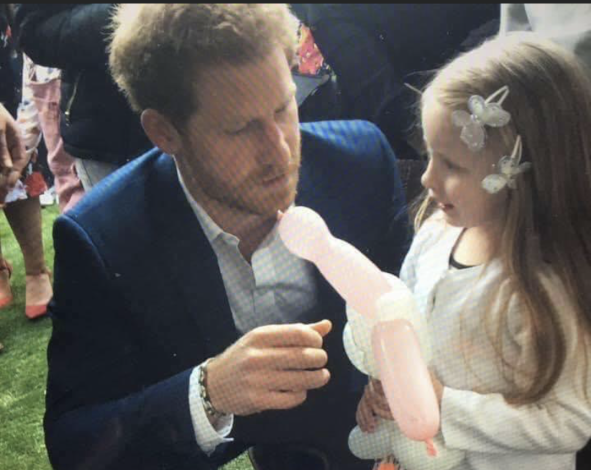 As she gets older, Evie is asking more and more questions about her dad, and Scotty's Little Soldiers is always on hand to offer support. 
"Scotty's have always been there for support," Sarah continues. "Whether it's breaks, grants or the newsletter, there's always something to keep you involved. There are so many military children effected by their parent dying and it has such a profound effect on them. It's great to have an organisation like Scotty's looking out for them."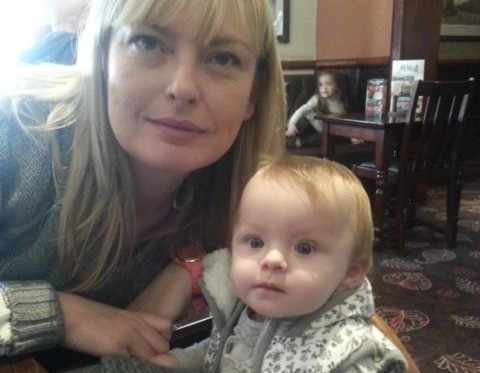 Find Out More About Scotty's